Revision of Scripture Reflections - Like the Magi 2016 from Mon, 01/04/2016 - 3:10pm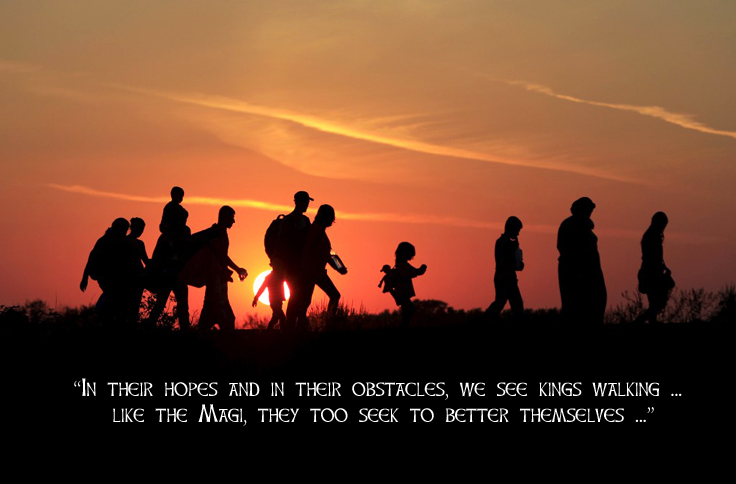 Scripture Quote from the Book of the Prophet Isaiah 60:3

Raise your eyes and look about;

they all gather and come to you;

your sons come from afar,

and your daughters in the arms of their nurses.

Reflection

The feast of the Epiphany, or the manifestation, teaches us that God  is visible,  is evident, to us.  God is shown forth wherever people are searching for love and light and truth.  Or, in the words of Pope Francis, "Go out to every man and woman, bringing the goodness and tenderness of God.  May the balm of mercy reach everyone, both believers and those far away, as a sign that the kingdom of God is already present in our midst."  Let us journey then in 2016 with eyes searching to see the light, to see the truth, to see the love, to see the goodness -- present in each one of us if we but look with eyes of mercy and the eyes of tenderness.  May grace help us see The Magi in the homeless, the refugees and the migrants who hope against all hope that they will find the Face of Mercy in each one of us.  Walking towards us, they are our sisters and brothers,  our daughters and sons -- let us help them keep their dignity with reverence and awe for the land they seek to dwell in is part of "this earth and all its fullness belongs to God."
PRAYER
God of all the nations, you are the Star inviting all of us to fulness of life.  Give us the wisdom to follow you, recognizing your Face in every person we meet and hearing your Voice when you speak to us.  Oh Mary, Mother of Mercy, watch over us in this Holy Year, so that all of us may re-discover the joy of God's tenderness.  AMEN.